CHARLOTTE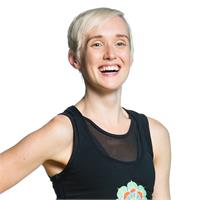 Assistant Manager, Senior Yoga Teacher
Thunderbolt Power Yoga's self-proclaimed "awkward ninja warrior," Charlotte Kilbourn can be spotted all over the studio. Assistant manager, client relations manager and a senior yoga teacher, Charlotte helps keep the studio running and brings smiles and laughs as bright as her hair to everyone at the same time.
She's inspired by her pups' ability to live in the present and the optimism, unconditional love, passion and commitment of her family, boyfriend and yoga students, and her favorite thing about teaching yoga is reminding her students to let each day's practice whatever it needs to be. Charlotte thinks of yoga as a permission slip of sorts – permission for things to be messy – but also permission to be fully present in life's messes and to find a way to dance through life's messes with your own awkward grace and own each moment – messy or not.
Charlotte completed her 200-hour training at Konalani Yoga Ashram in Kailua-Kona, Hawaii, before taking Laughing Lotus' 50-hour super sequencing training in New York.
A Florida native and Oglethorpe University graduate, Charlotte moved to Atlanta in 2005 and currently lives in West End with her boyfriend Luke and two dogs, Olive and Blinkin.
Catch her in the studio throughout the week, and follow along with snaps of her life on Instagram and her favorite tunes on Spotify at @charlotte.kilbourn. Don't forget to "be brave, be weird, be unequivocally you."
CHARLOTTE instructs the following:
Set to a rocking playlist, our Signature Heated Power Flow allows you to connect breath to rhythm, and beat to body. Class is a blend of alignment and fluidity, all classes are set to 85-90 degrees, and are open to all levels.




The approach is to find that rhythm - the rhythm of the breath, marrying it to the rhythm of the body, and to dig deep to allow the rhythm of the heart to join the dubstep party. Dubstep music includes many musical influences such as dub, reggae, bass n' drums, and the music ranges from melodious instrumental to deep tempos. "It's all about that bass bout that bass no treble...." #yogastorm

Class full? We have walk-in spaces available, so come on in!