CAITLIN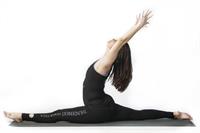 Caitlin Griffey
"Take all the healing and peaceful energy with you out into the world."
Caitlin Griffey was born and raised in Baltimore, MD where she began dancing at the age of 7 and was accepted into Baltimore School for the Arts as a ballet major. She deferred college for a year to pursue her ballet career and moved to Charleston, SC where she danced professionally with Charleston Ballet Theater. The following year she attended the prestigious Indiana University Jacobs School of Music under scholarship and moved to Bloomington, Indiana. Over the course of 4 years at IU, Caitlin had the privilege of working closely with esteemed dancers and choreographers such as Violette Verdy, John Clifford, Julie Kent, and Suzanne Pilare. After graduation she moved back to Baltimore for a year and danced and taught for the Baltimore Ballet where she broke her foot and experienced her first major injury. She went through a lot of physical therapy and made the decision to put ballet to the side and pursue life as a "normal" human being. She decided to move to Atlanta, GA in 2009 to be closer to her older sister and began taking classes to apply for grad school for physical therapy. As life and work got in the way she hated her desk job for 4 years and the only love she found was through her yoga practice where she began her cerfication at red hot yoga in 2014 and the rest is history. Reflecting back on her dancing days, she realized why it was so much apart of her being, because that was where she truely felt she could escape the troubles of her life and really come alive was through movement. She loved everything about it, the precision to detail, the technique and it was the only place for her where things made sense where she could let go of all the chatter and connect with her being. This kind of moving meditation and the transition into life as a yoga instructor could not have been a more natural and obvious movement of her life. She has been on staff at Thunderbolt Power Yoga since its opening and continues to grow and learn along with her students and is excited to continue on to her 500hr training this year. In her spare time, Caitlin enjoys reading, cooking and spending time with her cats.
Follow Caitlin on Instagram
@Cgriffey
Spotify: Caitlin Sara Griffey
Yoga Alliance RYT 152813
CAITLIN instructs the following:
Set to a rocking playlist, our Signature Heated Power Flow allows you to connect breath to rhythm, and beat to body. Class is a blend of alignment and fluidity, all classes are set to 85-90 degrees, and are open to all levels.