ELIZABETH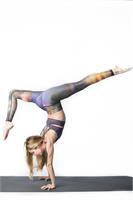 "Sprinkle Kindness"
Elizabeth received her RYT 200 through Red Hot Yoga in 2014, and has continued her education at both Thunderbolt Power Yoga & Pavones Yoga Center, Costa Rica.
Yoga Junkie, Dog Lover & Food fanatic. I am a former real estate paralegal who decided to trade in my heels for barefeet. Yoga gave me the freedom to be myself. I used to be a gymnast & dancer so when I found yoga it brought me back to all the things I loved as a kid. I remember the quote "If you ever lose site of your passion, revert back to what you loved most when you were a child." Those words really hit home for me & I decided to live my life to the fullest. I discovered through both my faith & time on my mat that I could let go of things in the past that I'd held on to. Yoga healed the internal pain I experienced & truly gave me the strength to express my full authenticity. I think my biggest take aways from the practice of yoga include being humble, authentic, kind, grateful. My passion lives in inspiring others to bring all of these qualities into their lives. There's so much more to this beautiful practice than the physical asana...it can transform your soul in away that gives you infinite freedom. Who wouldn't want to share that with the world?
Follow Elizabeth on Instagram
@beggsyoga
Spotify:
Elizabeth Ashley Beggs
ELIZABETH instructs the following:
Set to a rocking playlist, our Signature Heated Power Flow allows you to connect breath to rhythm, and beat to body. Class is a blend of alignment and fluidity, all classes are set to 85-90 degrees, and are open to all levels.




Our Gentle Thunderbolt Heated Flow moves with intention and care so you can honor and restore your body with warmth and ease. This class is heated to 85-90 degrees and is open to all levels.




You can expect an energetic Thunderbolt Power Flow choreographed to hip hop/rap/old-school Nelly kinda music. Get lost in the music, shake your booty, and "don't you worry about a thing."