CARLY GRACE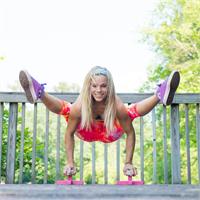 Founder and director of Thunderbolt Power Yoga®, Carly grew up in Atlanta and attended The Westminster Schools and Virginia Tech, where she graduated Summa Cum Laude.
During college, she began practicing yoga to escape her intense cheerleading training; a desire to find more purposeful friendships and cultivate a greater well-being kept her coming back. After a lifetime of perfection-based sports, yoga was the first thing Carly practiced where a perfect-ten mentality wasn't required, and she delighted in yoga's celebration of imperfection.
At only 24, she opened Thunderbolt as a community-based studio where instructors practice with each other, students make friends, and yogis count on clean spaces and familiar faces.
As a YA 200 E-RYT, Carly's studied and practiced with influencers and teachers across the country. In addition to teaching, she leads Carly Grace Power Yoga RYS Trainings, and generates content for her lifestyle/wellness blog, carlygraceyoga.com.
When teaching, she encourages people to move like themselves, helps students be audaciously playful in their practices and lives, and hopes to inspire the "be for one another" mentality that shapes her business.
Meet Carly for a sweaty, soul-drenched class, say "hello" on Instagram @carlygraceyoga, and tune in for her online yoga classes, launching soon!
CARLY GRACE instructs the following:
Set to a rocking playlist, our Signature Heated Power Flow allows you to connect breath to rhythm, and beat to body. Class is a blend of alignment and fluidity, all classes are set to 85-90 degrees, and are open to all levels.




Happy Thanksgiving. Join Thunderbolt Power Yoga for an all-levels Thanksgiving Power Flow from 10:00-11:30am.

Yoga now. Eat Pie later.

Happy Thanksgiving!




Advanced Heated Power Flow is a strong flow class that incorporates optional advanced variations into the sequencing. This class will move faster, assume a basic level of yoga knowledge, and rely on your ability to modify poses and take care of yourself. We will focus on one specified inversion/arm balance per class that will be demonstrated, demystified, and worked on. Options to float in and out of handstands and arm balances will be offered.

Be #audaciosulyplayful




You can expect an energetic Thunderbolt Power Flow choreographed to hip hop/rap/old-school Nelly kinda music. Get lost in the music, shake your booty, and "don't you worry about a thing."




Join Thunderbolt Power Yoga for a handstanding workshop! We will help you demystify this freestanding pose step by step. You will leave with a better understanding of how to safely enter and exit handstands and how to further your handstanding practice both at home and in your regular practice.