CHRISTOPHER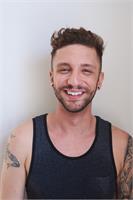 CHRISTOPHER instructs the following:
Advanced Heated Power Flow is a strong flow class that incorporates optional advanced variations into the sequencing. This class will move faster, assume a basic level of yoga knowledge, and rely on your ability to modify poses and take care of yourself. We will focus on one specified inversion/arm balance per class that will be demonstrated, demystified, and worked on. Options to float in and out of handstands and arm balances will be offered.

Be #audaciosulyplayful




Set to a rocking playlist, our Signature Heated Power Flow allows you to connect breath to rhythm, and beat to body. Class is a blend of alignment and fluidity, all classes are set to 85-90 degrees, and are open to all levels.




This all levels yoga emphasizes opening of the hips, hamstrings, chest, and overall front body while integrating body awareness through core integration.




Thunderbolt Spirit Flow is a spin on our traditional Thunderbolt Power Flow. The alignment principles will be key to the flow, more time will be spent in the rejuvenation portion of the class, and space to move with more intention will be created. Yoga philosophy is offered for application to life's daily challenges. This comprehensive class will feed your heart and soul with spiritual music and empowering words.