ALYSSA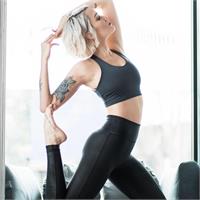 Alyssa joined the Thunderbolt Power Yoga team in 2016 after completing her 200-hour training at CorePower Yoga.
"Count your blessings, not your breaths," that's what Alyssa often closes her classes with and is exactly why she teaches yoga. Inspired by helping students find their happiest, healthiest lives, Alyssa teaches to connect with yogis and help them achieve accomplishments on their mats. She calls Thunderbolt her yoga home because the sense of community and loving family she's found here can't be beat.
A Texas native, Alyssa moved to Atlanta in 2009 and currently lives in Chamblee with her two daughters, Lyric and Olive, and pup, Bishop. When not teaching or practicing, Alyssa's in full-time mom mode. Keep up with Alyssa on Instagram at @itsalyssa727 and Spotify - Alyssa Owen - and find her in the studio soon!
ALYSSA instructs the following:
Set to a rocking playlist, our Signature Heated Power Flow allows you to connect breath to rhythm, and beat to body. Class is a blend of alignment and fluidity, all classes are set to 85-90 degrees, and are open to all levels.




You can expect an energetic Thunderbolt Power Flow choreographed to hip hop/rap/old-school Nelly kinda music. Get lost in the music, shake your booty, and "don't you worry about a thing."