ALYSSA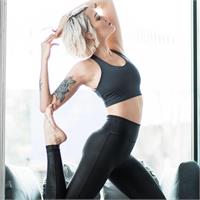 ALYSSA instructs the following:
Set to a rocking playlist, our Signature Heated Power Flow allows you to connect breath to rhythm, and beat to body. Class is a blend of alignment and fluidity, all classes are set to 85-90 degrees, and are open to all levels.




Our Gentle Thunderbolt Heated Flow moves with intention and care so you can honor and restore your body with warmth and ease. This class is heated to 85-90 degrees and is open to all levels.




Thunderbolt Spirit Flow is a spin on our traditional Thunderbolt Power Flow. The alignment principles will be key to the flow, more time will be spent in the rejuvenation portion of the class, and space to move with more intention will be created. Yoga philosophy is offered for application to life's daily challenges. This comprehensive class will feed your heart and soul with spiritual music and empowering words.