ANASTASIA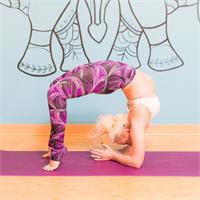 Anastasia joined the Thunderbolt Power Yoga team in 2017, after graduating from the Carly Grace Power Yoga School.
Inspired by the energy each yogi brings to the mat, the dedication to mental, physical and spiritual well-being are Anastasia's favorite parts of being an instructor. Like much of the Thunderbolt staff, Anastasia is drawn to the studio by our community. From teachers and front desk staff to everyone who practices at TPY, the Thunderbolt people make this her yoga home.
In each class, Anastasia reminds yogis that "your presence is a present," hoping everyone leaves practice more aware of living in the moment.
A Kansas City, Kansas native, Anastasia met her husband Drew at Auburn University. The couple now resides in Buckhead. Catch her in the studio on throughout the week, and follow along with snaps of her life on Instagram and her favorite tunes on Spotify @ajerdan33.
ANASTASIA instructs the following:
Set to a rocking playlist, our Signature Heated Power Flow allows you to connect breath to rhythm, and beat to body. Class is a blend of alignment and fluidity, all classes are set to 85-90 degrees, and are open to all levels.




Thunderbolt Spirit Flow is a spin on our traditional Thunderbolt Power Flow. The alignment principles will be key to the flow, more time will be spent in the rejuvenation portion of the class, and space to move with more intention will be created. Yoga philosophy is offered for application to life's daily challenges. This comprehensive class will feed your heart and soul with spiritual music and empowering words.