JOHN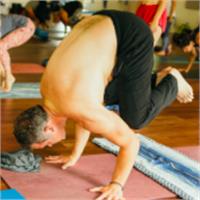 John and his family are proud to have called Atlanta home for more than 12 years. He and his wife Laura have been married 23 years and have 4 daughters Julia, Joanna, Faith, and Elle. His daughters continue to shape John's worldview, which is evident through his commitment to leaving community better than he found it and to growing women's leadership. His family is a constant reminder of the significance of the firm he leads and serves, NM Goodwin, Wright.
John's yoga journey began in May of 2015 after a ruptured Achilles injury. Teaching, leadership development, and community are passions for JW (Jay Dub). And now those are being lived out in a new venue…on a yoga mat within the TPY Studio.
JOHN instructs the following:
Set to a rocking playlist, our Signature Heated Power Flow allows you to connect breath to rhythm, and beat to body. Class is a blend of alignment and fluidity, all classes are set to 85-90 degrees, and are open to all levels.