CASSIE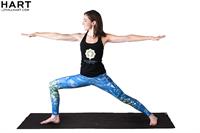 Yoga Teacher
After graduating from college in 2009, I dove into my career headfirst and didn't really come up for air until the spring of 2015. After being laid off from a job, I decided to take some time off work and just do me for a while. I got enough sleep, read, cooked, traveled, hiked a lot with my dog (my best friend in the world), and started taking care of myself in a way I never had before. I
'd done yoga on and off for 6 years prior, but after I stopped working, I found Thunderbolt and started doing yoga more days than not, which quickly turned into every day. In combination with the other healthy lifestyle changes I was making, I felt better - mentally, physically, emotionally - than I had in a long time.
I decided to get my RYT-200 certification as soon as the opportunity presented itself, and I graduated in May 2016. I wanted to further my personal practice and share my journey with others as well as have the amazing opportunity to learn from them.
After taking that wonderful year off, I have now been back in the corporate world for 5 months. While I enjoy the challenges of my career, I am pursuing it with more balance this go 'round. My daily yoga practice provides me the foundation and motivation to be my best version of me each and every day, and being able to teach yoga allows me to share the powerful, positive energy of this beautiful practice with a group of people seeking the same serenity that I am.
Follow Cassie on Instagram @cassieratliff and on Spotify: cassieratliff
CASSIE instructs the following:
Basics-Heated Power Flow is a 60 minute class designed to introduce the poses and framework of Thunderbolt Power Yoga in a way that focuses on the breath, proper alignment, and building a strong foundation for your yoga practice. Don't be deceived by the "basics" in the name, Power Flow Basics will be physically challenging and we guarantee you won't leave the #yogastorm without breaking a sweat. This class is appropriate for those who are true beginners as well as seasoned yogis who need a refresher on the basics.