KIRSTEN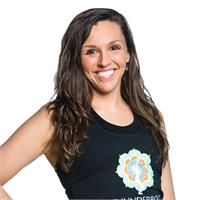 "Whatever you do, do it with all your heart"
Kirsten received her RYT 200 from Carly Grace Power Yoga RYS in 2016. She grew up in Boston and moved to Atlanta in 2015 to be closer to her sister and nephews. When she's not on her mat, Kirsten loves to cook, spend time with family and friends, or curl up on the couch with her puppies, a good book, and a glass of wine.
Follow Kirsten on Instagram @kirstend21
Spotify: Kirsten DeWitt
Yoga Alliance RYT 196670
KIRSTEN instructs the following:
Thunderbolt Power Yoga and Crossfit 404 team up to provide you with a 45 minute Hips and Hamstrings Yoga Class in the #yogastorm. If your muscles are tight from lifting, running, kettle-ball swings, or burpees then this class is right for you! Come get your yoga on with the girls from TPY.




Set to a rocking playlist, our Signature Heated Power Flow allows you to connect breath to rhythm, and beat to body. Class is a blend of alignment and fluidity, all classes are set to 85-90 degrees, and are open to all levels.