STACEY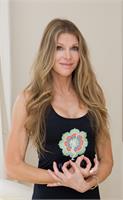 Yoga Teacher
Stacey joined the Thunderbolt Power Yoga team in June 2016, after graduating from the Carly Grace Power Yoga School. In addition to completing her 200-hour training, she is also trained in Yin, Ayurveda and environmental medicine and completed a 50-hour continuing education program in essential oils and yoga through Laughing Lotus.
Drawn to the studio by the liveliness of the community, Stacey is inspired by feeling healthy and energetic. More than anything else, she loves helping her students become healthier, both in mind and body, through their practices.
An Alabama native, Stacey is a graduate of, Auburn University. She currently lives in Buckhead with her two daughters and husband, Don.
Catch her in the studio on throughout the week, and follow along with snaps of her life on Instagram and her favorite tunes on Spotify @sleebern.

STACEY instructs the following:
Set to a rocking playlist, our Signature Heated Power Flow allows you to connect breath to rhythm, and beat to body. Class is a blend of alignment and fluidity, all classes are set to 85-90 degrees, and are open to all levels.




This all levels yoga emphasizes opening of the hips, hamstrings, chest, and overall front body while integrating body awareness through core integration.