ALEX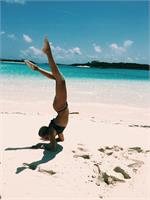 Alex Kostyshen
"Be Raw"
I am a Canadian who moved to Atlanta as a child and had always know the green lawns of our Johns Creek suburbs to be my home. I moved to Buckhead two years ago, and that is where yoga entered my life. At first my only drive was the asana, the practice of improving poses and discovering the many exciting arm balances I could delicately weave into my practice. My cheerleading past sparked, and I was able to reignite the old flame of constantly working to a new move.
Although I had been consistently practicing yoga, my spiritual journey was not even close to starting. Not yet opening my heart, I often tuned out the readings and did not accept the intentions or messages that were being offered. Not until I struggled with emotional turmoil was I even ready to take on a deeper level of practice. One day in class, I heard about teacher training and my mom encouraged me to take on the opportunity, so she would know where I was on the weekends. I went into the training apprehensively and not fully aware of what was lying ahead. During our first week, we explored the emotional levels I did not expect. Eventually, I timidly embraced the spiritual remedies yoga granted and happily discovered that yoga was waiting for me with open arms. Over the training period, I overcame many inner demons and found the true solace in my once ignored readings and intentions.
My mat has now transformed into a physical and emotional outlet for me. Teaching is a true passion of mine, and I look forward to planning out a message for my classes and setting up a jamming playlist usually containing at least one Drake song. In this hour I teach, I feel I can share and express what I discover through my constant spiritual journey.
Yoga is not my only outlet. I also enjoy art which has been a passion of mine for as long as I can remember. I explore multiple mediums, but the two closest to my heart are painting and film photography. I have discovered that self expression can be present in any form, and I am thrilled to embrace new aspects of life with the open heart yoga has given me.
Follow Alex on Instagram
@alexkostyshen
Spotify: alexkostyshen
Yoga Alliance RYT
ALEX instructs the following:
Set to a rocking playlist, our Signature Heated Power Flow allows you to connect breath to rhythm, and beat to body. Class is a blend of alignment and fluidity, all classes are set to 85-90 degrees, and are open to all levels.