ALEX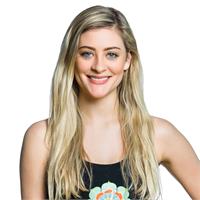 Operations Manager and Yoga Teacher
Alex joined the Thunderbolt Power Yoga team in July 2016 and currently works as both operations manager and a yoga teacher. In 2017, Alex enrolled in the Carly Grace Power Yoga School and upon graduation in August, joined Thunderbolt's teaching staff, meaning you can now catch her behind the front desk and in the studio.
After moving to Atlanta by herself, Alex found a sense the sense of community she yearned for at Thunderbolt and discovered the gift of yoga at the same time. Inspired by people who follow even the most intimidating dreams, she became a teacher to help students tap into their mind, body, spirit connections.
A Louisville, Ohio, native, Alex attended Kent State University and North Greenville University before moving to Atlanta in 2015. Currently, she lives in Sandy Springs with her husband and when not at the studio, can often be found spending time with family, especially her adorable niece and nephews. Keep up with Alex on Instagram and Spotify - @plantifulalex - and be sure to say, "hi!" next time you're in the studio.
ALEX instructs the following:
Set to a rocking playlist, our Signature Heated Power Flow allows you to connect breath to rhythm, and beat to body. Class is a blend of alignment and fluidity, all classes are set to 85-90 degrees, and are open to all levels.