LAURA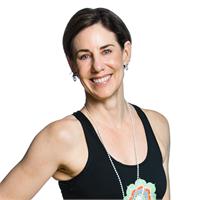 Laura Bjorkholm
"Let your heart dance in the realm of pure possibility"
Laura received her 200 RYT from Carly Grace Power Yoga RYS, 2016.
"I am a perpetually curious person, and a student of life. I love learning new things and meeting new people (despite the fact that I am very much an introvert). I tend to be serious and book-ish by nature, and yoga gives me a space where I can set that all aside and just "be". On my mat, I turn off my mind, and find joy in simply moving.
After sixteen years of practicing yoga, I felt inspired to take TPY Teacher Training to deepen my own practice with no expectation that I might one day teach. As training progressed, I found myself drawn to the possibility of teaching in order to give back some small measure of the gifts my teachers have given me over the years. As a teacher, I hope that I am able to share what I find beautiful about yoga with others.
I am lucky to have the staunch support of my husband, John, our two sons, Johnny and Nate, and our dog, Buddy."
Follow Laura on Spotify: laura.bjorkholm2
YA RYT 196330
LAURA instructs the following:
Set to a rocking playlist, our Signature Heated Power Flow allows you to connect breath to rhythm, and beat to body. Class is a blend of alignment and fluidity, all classes are set to 85-90 degrees, and are open to all levels.




Basics-Heated Power Flow is a 60 minute class designed to introduce the poses and framework of Thunderbolt Power Yoga in a way that focuses on the breath, proper alignment, and building a strong foundation for your yoga practice. Don't be deceived by the "basics" in the name, Power Flow Basics will be physically challenging and we guarantee you won't leave the #yogastorm without breaking a sweat. This class is appropriate for those who are true beginners as well as seasoned yogis who need a refresher on the basics.




Our Gentle Thunderbolt Heated Flow moves with intention and care so you can honor and restore your body with warmth and ease. This class is heated to 85-90 degrees and is open to all levels.