LYNN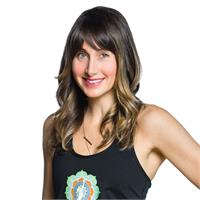 Lynn joined the Thunderbolt Power Yoga teaching staff in 2015 after graduating from the Carly Grace Power Yoga School. Also trained in Yin, Yoga for Trauma, the Baptiste Art of Assisting and Advanced Art of Assisting, Lynn brings a wealth of knowledge to each class she teaches.
Inspired by the Thunderbolt community's passion for practice and change, she is most excited by watching students, whether brand new or experienced, let go of their fears and tackle new poses. A big proponent for understanding yoga to its fullest, Lynn continually studies all aspects of yoga - philosophy, anatomy, history, different styles, etc. - and encourages her students to do the same.
An Atlanta native, Lynn received her undergraduate degree from the University of Georgia and her MBA from Georgia Tech. When not teaching, Lynn leads a digital marketing team for a large software company and in her free time, can often be found with Winston, her 14 year-old rescue dog. Keep up with her on Instagram and Spotify - @lrperry-us - and in the studio teaching on Saturdays and Sundays.
LYNN instructs the following:
Set to a rocking playlist, our Signature Heated Power Flow allows you to connect breath to rhythm, and beat to body. Class is a blend of alignment and fluidity, all classes are set to 85-90 degrees, and are open to all levels.




Thunderbolt Spirit Flow is a spin on our traditional Thunderbolt Power Flow. The alignment principles will be key to the flow, more time will be spent in the rejuvenation portion of the class, and space to move with more intention will be created. Yoga philosophy is offered for application to life's daily challenges. This comprehensive class will feed your heart and soul with spiritual music and empowering words.