Evan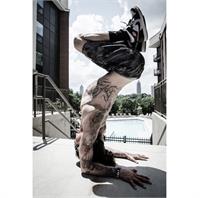 Yoga Playground is Evan "Eazy" Hall's unique approach to teaching general movement, yoga and handstands. Evan is trained in Rocket Yoga - a highly dynamic power flow with an emphasis on transitioning through inversions. Within the Rocket community, Evan has studied with master yogis and hand balancers such as Adrian McCavitt, Irene Pappas & Carson Clay Calhoun.
Aside from being the creator of YogaPlayground, Evan is an all around nice pisces dude that loves spending time with his lady Kia and their son Lazer on the beach in Miami.
Evan is currently not instructing any classes.